Music Country, Music Pop/Rock/Contemporary, Hidden
Ian Moss & Troy Cassar-Daley
Together Alone Tour 2022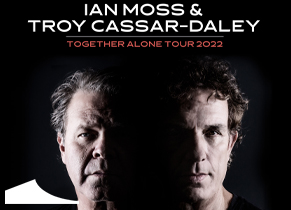 *With support act, TBA* Presented by "Tarampa Music, ThrillHill, The Harbour Agency"

Thursday 3 March 2022, 8:00pm

Two of Australia's most respected singers, musicians and songwriters - Ian Moss and Troy Cassar-Daley - are taking their guitars and songs on the road across 31 dates on the National 'Together Alone Tour' commencing March 2022.

The 'Together Alone Tour' will be the first time these two powerhouse guitarists and vocalists have joined forces to tour together and shared a stage in such an intimate setting as they take the audience on a musical journey across their respective careers.

Don't miss your chance to see these old friends light up, and rip up, the stage. It will be magic.

VIP Experience:
Only our VIP ticket holders will have the rare opportunity to go behind the scenes and watch Ian and Troy soundcheck, run a few songs on stage and have exclusive access to a meet and greet with Ian and Troy, have a chat and to grab a photo after soundcheck.

Included in the VIP Experience (one per person/ticket price):
- Exclusive "Meet and Greet" with Ian Moss and Troy Cassar-Daley during soundcheck
- VIP "Together Alone" lanyard
- VIP Limited Edition "Together Alone" Stubby Cooler
- Ticket to the show and best seats available (where applicable)
Numbers are strictly limited (subject to venue seating)

Duration: Approximately two hours and thirty minutes including interval.

Full: $78.90
VIP: $123.90

Covid-19 Safety: All shows and events will be presented in accordance with DHHS regulations and the orders of the Chief Health Officer. As of the time of publication, the CHO's directive is that all patrons visiting the West Gippsland Arts Centre must show proof of double-vaccination, or a valid medical exemption, accompanied by photo ID.
This will apply to all visitors to West Gippsland Arts Centre, including (but not limited to) venue hirers, producers, performers, contractors, suppliers, exhibitors, volunteers and patrons of Albert & Smith. Guests can be assured that all employees and representatives of the West Gippsland Arts Centre are fully vaccinated.
Please enact social distancing and follow current Covid-19 requirements.
$78.90 - $123.90
3 March 2022
150 minutes
20:00
West Gippsland Arts Centre
Theatre 1