Music Blues/Jazz/Swing/Folk
Toni Childs Retrospective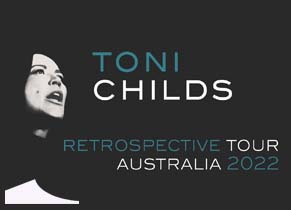 Saturday 3 September 7:30pm                                                                   

Presented by Big Mother Entertainment

Join the legendary Toni Childs for a special two-hour performance as she celebrates her life's musical works. Toni will be performing hits and fan favourites from Union, House of Hope, The Woman's Boat and Keep the Faith in the first hour of her show with an introduction to her new music from two very special albums It's All A Beautiful Noise and Citizens of the Planet in the second hour.

An Emmy Winner and three-time Grammy nominated recording artist, Toni is a celebrated singer/songwriter known for her powerful voice, inspiring independent spirit and crafted storytelling. With fans in over 50 countries around the world, she has produced a list of international hits such as: Don't Walk Away, Stop Your Fussin', Walk And Talk Like Angels, Zimbabwe, Where's The Ocean, Many Rivers To Cross, I've Got to Go Now and Because You're Beautiful, to name a few.

Over Toni's illustrious career she has opened for Bob Dylan and performed duets with greats such as Al Green and Peter Gabriel. She has toured the world over gaining a much loved fan base.

Relive your best musical memories with Toni Childs' Greatest Hits live in concert.

Duration: 2 hours and 30 minutes including intermission.

Full: $69
Concession/Group 10+: $64
VIP Meet & Greet Package*: $175

*This exciting opportunity includes one concert ticket within the first row, a digital copy of Toni Childs Greatest Hits two CD set, plus a glass of bubbles pre show with Toni at 6:45pm. There is a maximum allocation of 15 per show and this unique once in a lifetime experience can be purchased at the box office or online.
$69.00 - $175.00
3 September 2022