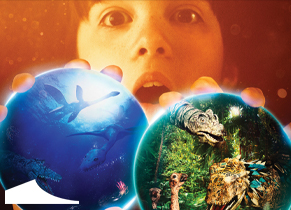 Family/Children
Erth's Prehistoric World
Tuesday 5 & Wednesday 6 July                                                   Tuesday 5 July 6:00pmWednesday 6 July 11:00am & 3:00pmBringing ancient creatures from land and sea together in one show, Erth's Prehistoric World is the perfect combination of theatrical magic and charm. It takes the audience to the bottom of the ocean to discover ancient bio-luminescent creatures and incredible marine reptiles, and then back to dry land to witness some of the most amazing dinosaurs to have ever walked this Earth...Dinosaurs are a gateway to learning, inspiring young minds to consider an array of subjects from science to literature, geology to bio engineering, and natural history to mathematics. Dinosaurs have become a curious link between child and parent, grandparent, guardian and educator. The learning opportunities are immense.Experience the creatures of your imagination coming to life on stage in this enthralling new show!Duration: Approximately 55 minutes, no intervalMembers: $20Full: $27Concession: $25Youth U/18: $15Family of 4*: $75*Family of four consisting of 2 Adults & 2 Children, or 1 Adult & 3 Children.
West Gippsland Arts Centre
Theatre 1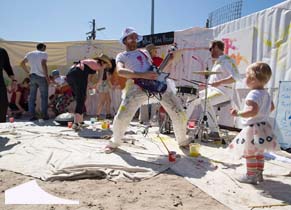 Workshop/Seminar, Family/Children
Paint What You Hear
Wed 6 July - Sat 9 July                                       Wednesday 6 July:10:30am - 11:15am: Ages 2-4 Years FREE11:45am - 12:30pm: Ages 2-4 Years FREE3:15pm - 4:00pm: Ages 2-4 Years FREEThursday 7 July:9:30am - 11:30am: Ages 5-8 Years Child $52:00pm - 4:00pm: Ages 9-12 Years Child $5Friday 8 July:11:00am - 1:00pm: Ages 5-8 Years Child $52:00pm - 4:00pm: Ages 9-12 Years Child $5Saturday 9 July:10:00am - 12:00pm: Adults Full: $15, Members: $102:00pm - 4:30pm: Art Work Display Workshop Register your attendance HERELooking for something fun, engaging and interactive for the kids to do these school holidays? Join us for Paint What You Hear, a series of hands-on workshops that blend music and art. Participants will experience live music and free spirited fun while also getting messy. Very messy!Directed by musician Erica Rasmussen and visual artist Zakiya Kurdi these amazing workshops use live classical and contemporary music and visual art, encouraging participants to respond to the music using painting and drawing.On Saturday 9 July following the workshops, participants are invited to attend an Artwork Display Workshop to frame their work ready for exhibition at West Gippsland Arts Centre for the remainder of July.These workshops get very messy so we encourage you to wear 'play clothes' that you don't mind getting covered with paint!Watch this video to see what Paint What You Hear is all about!Note:- All children must be accompanied by a parent or guardian for the duration of the workshop.- We advise children to wear 'play clothes', as the ArtPlay sessions get very messy.- All paint used is water based and easily washes off clothing.- Any parents or guardians that are happy for their children to be featured in photos or videos will need to complete a photography/video consent form.- Food and drinks will not be provided, you are welcome to bring your own.- Participation is at own risk. West Gippsland Arts Centre and Paint What You Hear take no responsibility for any allergic reactions, injuries or illness that may arise from the workshop/s.- Any questions or queries please contact the Booking Office.
West Gippsland Arts Centre
Lyrebird Room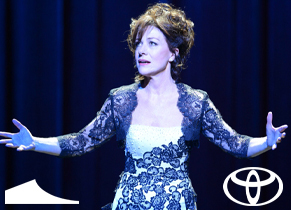 Daylight Entertainment
The Songs of Judy Garland
Friday 8 July 11:00am                                                                                    Bernadette Robinson's performances in Songs For Nobodies at London's Ambassadors Theatre last year earned the show an Olivier Awards nomination and announced her as a new star on the West End. Alone on stage, Bernadette introduced London audiences to the 5 "nobodies" of the title and 5 iconic singers of the 20th century that had already enchanted and thrilled Australian audiences: Judy Garland, Patsy Cline, Edith Piaf, Billie Holiday and Maria Callas.London's broadsheet papers raved: The Times called her "A jaw-dropping talent"Now, following her pre-lockdown performances at Arts Centre Melbourne and Sydney Opera House, Bernadette performs a special concert featuring one of those iconic characters, in The Songs of Judy Garland.Duration: Approximately 75 minutes no intervalMember: $25Concession: $27Full: $30Group 10+: $23Youth U/18: $15 West Gippsland Arts Centre's 2022 Daylight Entertainment Season is proudly sponsored by:
West Gippsland Arts Centre
Theatre 1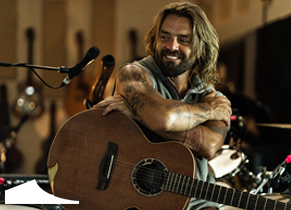 Music Pop/Rock/Contemporary
Xavier Rudd
Friday 8 July 8:00pm                                                                                                                        With Special Guest Marlon x RullaXavier Rudd announces his 2022 Australian tour, in celebration of the release of his forthcoming 10th studio album 'Jan Juc Moon', out on 25 March. The wind blows strong through Xavier Rudd's tenth album. It's a recurring image that speaks of wide-open space and the awesome natural elements that shape it: a force far greater than us, but ours to harness if we take the time to learn, reflect and respect its ways."It hit me last year when I started to write Stoney Creek," the Australian roots journeyman says of the album's first, exhilarating single: a rolling acoustic balm of a song that finds refuge in the simple blessings of rest, companionship and belonging in a world gone crazy.""We were on a trip north to the Cape and the wind was blowing too hard to take the tinnie out to the island. As I contemplated everything in my life and what was happening in the world, there was a strong southeaster blowing all the time. It felt like a wind of change, literally, in so many ways." The wide-open space he'd found himself in — the great COVID silence — was both beyond his control and curiously in-sync. The break accelerated a return to the solo mode of creation that first led the barefoot multi-instrumentalist on his phenomenal journey."I'm very excited to get out on the road and share this new record and live show that I've been working on. Australia first, and then back out in the big wide world; the world needs music and I'm ready to share."Joining Xavier for the full national tour will be support act Marlon x Rulla a dynamic First Nations duo who burst onto the scence in 2020 performing on some of the nation's biggest stages - opening for Midnight Oil at WOMADelaide, rocking Bass in the Grass in Darwin, Party in the Apocalypse in Tassie and wowing 30,000 fans at the AFL'S Sir Douglas Nicholls round. It's no surprise given their energetic live show, that Rolling Stones have said "the group not only cemented themselves as one of the most monumental names on the bill for the evening, but set themselves aside as a pair of artists that you not only should, but undoubtedly need, to pay attention to as their career continues to rise."Duration: 3 hours, including a support act and a 20 minute intervalAll tickets: $89.90
West Gippsland Arts Centre
Theatre 1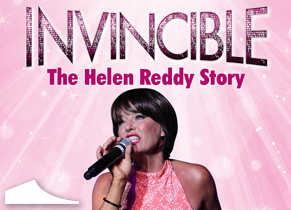 Music Pop/Rock/Contemporary
Invincible
Sunday 10 July 2:00pm                                                      Invincible - The Helen Reddy Story is the Incredible True Story of one Australian Woman who took on the World, starring internationally acclaimed Nikki Bennett.Hailed as the international 'Queen of '70s Pop', Helen Reddy was Australia's very first truly international superstar. In 1973, her iconic song I Am Woman became the unforgettable anthem of the women's liberation movement and made her the very first Australian to ever win a Grammy Award.During Helen Reddy's remarkable career she placed three number one hits on the US Billboard charts and six more in the US top 10. She sold over 25 million albums and played to sellout concert houses right around the world. She even hosted her very own prime time series on U.S.Television.Then, all of a sudden, she lost it all.In 2020, the feature film I Am Woman brought some of Helen's incredible story to screens worldwide.In 2022 Australian singer and actress, Nikki Bennett, brings the whole story to Australian stages. Stunningly written and performed, this beautiful tribute weaves Helen's greatest hits through her extraordinary life story. Featuring a stellar live band, it is a show that will capture every heart.Whatever you do in 2022, don't miss your chance to see this fabulous tribute to a woman who took on the world and became a legend.The Invincible Helen Reddy - an Australian to be celebrated."The quintessential performer, Nikki Bennett comes alive when the spotlight comes on.' - The Sun Herald'I got the chill factor, I hardly ever get that''I've never felt that much impact''She was extraordinary''Whatever you do, you have to come and see this show!''A real evening for the purists who appreciate great songs, great music and a great story.'Bennett looks and sounds a million bucks. A powerhouse performance that delivers the songs we love and a tale of survival we never knew.View a video of Nikki Bennett as Helen Reddy HEREDuration: Approximately 140 minutes including intervalMembers: $59.90Full: $69.90Concession: $64.90Group 10+: $59.90Youth U/18: $49.90
West Gippsland Arts Centre
Theatre 1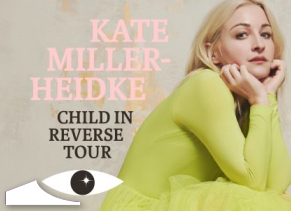 Music Theatre, Music Blues/Jazz/Swing/Folk, Music Pop/Rock/Contemporary
Kate Miller-Heidke
Tuesday 12 July 7:30pm                                                              ***With Special Guest Emily Wurramara***Frontier Touring are delighted to announce award-winning singer-songwriter Kate Miller-Heidke's Child In Reverse Tour, taking place throughout 2022! Joined by her six-piece band, the tour will see Kate play regional towns and cities across Australia, performing 15 shows over four months."It has felt like an eternity waiting for this tour to begin. I'll be playing with my favourite musicians and we are bursting with joy and excitement at the prospect of hitting the road again after so long. We will be premiering some brand new material plus selecting some deep cuts from the back catalogue, as well as celebrating some old favourites.Playing live has always been a pivotal part of what I do - the connection with you all and sharing loved moments in time and space. This one is going to be special." Ultimate M&G VIP Experience: $249.90 NO LONGER AVAILABLEMega Fan VIP Experience: $159.90 NO LONGER AVAILABLEA Reserve: $89.90VIP PACKAGE 1: Ultimate M&G VIP Experience· One ticket in the first row· Attend soundcheck, plus Q&A with Kate· Meet & Greet event with the artist - with signing/photos· Exclusive VIP souvenir tour program· Exclusive VIP set of 3 art prints· Exclusive VIP canvas tote bag· Exclusive VIP playing cards· Commemorative VIP laminate and lanyard· On site VIP hostsVIP PACKAGE 2: Mega Fan VIP · One ticket within the 2nd or 3rd rows· Exclusive VIP souvenir tour program· Exclusive VIP set of 3 art prints· Exclusive VIP canvas tote bag· Exclusive VIP playing cards· Commemorative VIP laminate and lanyard· On site VIP hostsT&Cs:• Please note that all VIP package purchasers will be contacted by Frontier Touring via email 5-7 days prior to the actual show date with additional details specific to event timings and package collection. The Ultimate M&G VIP Experience begins from 5.30pm, late arrivals may not be admitted.• Information will be sent to the email address provided at the time of purchase. Your contact details must be submitted at the time of purchase and be correct.• Please note that if you do not receive an email a few days prior to the event, please contact katemillerheidkeVIP@frontiertouring.com for your information.• All VIP package may vary market-by-market and are subject to modification at any time for any reason. All packages are non-transferable. All sales are final. There are no refunds or exchanges on packages for change of mind.• Please note that the artist, tour promoter, ticketing company, venue or any other affiliated parties are not responsible for out dated or inaccurate information provided by the consumer at the time of purchase.TICKET PURCHASE LIMITThere is a strict limit of eight (8) tickets per customer on this event. Persons who exceed the ticket limit may have any or all of their orders and tickets cancelled without notice. This includes orders associated with the same name, e-mail address, billing address, credit card number or other information.
West Gippsland Arts Centre
Theatre 1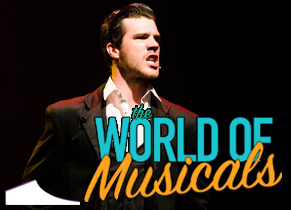 Music Theatre
World of Musicals
Saturday 16 July 7:30pm                                                                                                        The World of Musicals concert has graced stages across the globe and features a world-class ensemble of multi-talented performing artists who exquisitely recreate classic hits, fused with emotive ballads, big-screen anthems and iconic show tunes.From the best of The Phantom of the Opera and Les Miserables to We Will Rock You, Sister Act and many more, the World of Musicals delivers a stirring musical concert theatre experience that will leave you spellbound – from the opening song to the final medley of classics."ALL THE HIT SONGS IN ONE SHOW " - that is the quintessential takeaway from this musical concert gala.The World of the Musicals concert is a show that is tailored for the entire family, so get ready to be enthralled and sing along to all your favourite and much-loved musical songs in one unforgettable evening. Secure your seats today to a show inspired by many, but unlike any other."The cast is supremely talented and an absolute joy to watch"      - Broadway World"Emotional ballads, stunning solos and rousing ensemble performances"      - Main EchoDuration: Approximately 140 minutes including intervalFull: $79.90Members/Concession/Group 10+: $74.90Youth U/16: $59.90
West Gippsland Arts Centre
Theatre 1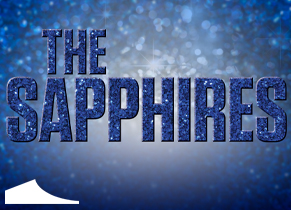 Music Blues/Jazz/Swing/Folk, Family/Children
The Sapphires
Tuesday 19 July 7:30pm                                                                 The Sapphires is one of the Australia's best-loved stories. Winning multiple awards as a play, film and soundtrack album there was one challenge left and that was to undertake a national tour of Australia. Bringing the raw energy, fun and emotion of this story directly to stages like Warragul and across the nation.Writer Tony Briggs will direct his work in a version he promises will be the most intimate telling of The Sapphires story yet."I hope the audience will feel a fresh sense of connection to a story that has already successfully infiltrated the psyche of the Australian theatre and movie going public and get a sense of joy and understanding of who Aboriginal people are and walk away from 'The Sapphires' with a smile on their faces." said Tony.Four young Aboriginal women from regional Australia, who like singing country music, suddenly get the chance to change their tune and their lives. Wearing uniforms of sequins, armed only with microphones they find themselves trying to spread joy in the hell that is the Vietnam War.The Sapphires is a funny, heart-warming tale inspired by the true story of writer Tony Briggs' mother. It tells of the incredible journey of a singing group of four Yorta Yorta Women, who sing classic soul hits against the backdrop of personal change and massive social upheaval. It is an energetic, fun, and engaging play that affirms life and the realisation of dreams.Duration: Approximately 2 hours, 10 minutes including intervalMembers: $35Full: $43Concession: $40Youth U/18: $25
West Gippsland Arts Centre
Theatre 1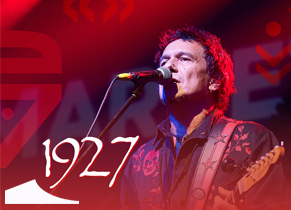 Music Pop/Rock/Contemporary
1927
Saturday 23 July 7:30pm                                                                                                         *With support act Erik Weideman*From the golden era for Australian rock bands, to reinvigorating fans today, 1927 have been entertaining audiences for 30 years and have stood the test of time as icons of the Australian music scene.With a debut album that became a smashing success that went five times platinum, stayed in the ARIA chart for 46 weeks, selling an excess of 400,000 copies and winning Australian Recording Industry Association (ARIA) Awards for best debut single and album, 1927 became a household name in Australia overnight. The album was …. ish. Ian McFarlane in his opus The Encyclopedia of Australian Rock and Pop, put it perfectly when he wrote "…. ish is brimful of stirring, stately rock anthems."It is one of the top 10 most successful debut albums for an Australian artist, to multiple ARIA awards, a multi-platinum second album, chart success in Europe and America.1927 live is a show not to be missed.All tickets: $65
West Gippsland Arts Centre
Theatre 1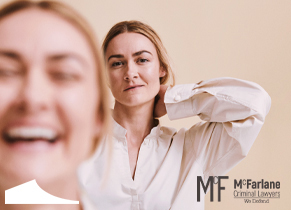 Comedy Drama, Drama
The Comedy of Errors
Saturday 30 July 7:30pm                                                    Bell Shakespeare'sThe Comedy of ErrorsBy William ShakespeareDirector Janine WatsonFar-fetched coincidences and chaotic hilarity.Shipwrecked and separated 33 years earlier, two sets of long-lost twins miraculously find themselves in the same city on the same day. What could possibly go wrong?The Comedy of Errors is a hilarious romp of swapped identities, misguided love, mistaken imprisonment and chaotic mishaps, leading to an unbelievably crazy day for bumbling twins.At the heart of this tale of comedic misfortune is an old man searching for his lost children. He finds himself in a hostile land, in the fight of his life... to save his life. As far-fetched coincidences unfold, chaotic hilarity ensues and a man's life could be saved — if only everything would go to plan.Directed by longtime Bell Shakespeare collaborator Janine Watson, this is a beautiful story about reunion, wrapped up in an evening of entertainment and laughter."Bell Shakespeare has mastered the art of presenting Shakespeare in a manner that is accessible to the modern-day audience, while still endearing those who love the tradition."       – Australian Stage "Bell Shakespeare – arguably the best Shakespearean theatre company."      – Herald SunRECOMMENDED AGE: 12+Duration: 2 hours 30 minutes (including 20 min interval) (expected time, subject to change pending rehearsals).Members: $42Full: $50Concession: $45Youth U/18: $33 The Comedy of Errors is proudly sponsored by:
West Gippsland Arts Centre
Theatre 1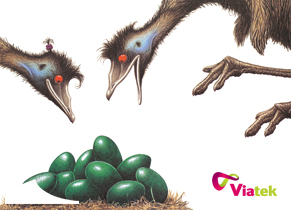 Family/Children
Edward the Emu
Tuesday 2 August 10am & 12pm                                                   West Gippsland Arts Centre presentsA Monkey Baa Theatre Company productionEDWARD THE EMUBased on the books by Sheena Knowles & Rod ClementWritten for the stage & directed by Eva Di CesareThe time has come for the Emus to tell the story, their way!The award-winning creative team from Monkey Baa Theatre Company are back with a brand-new take on another much-loved tale, Edward the Emu. More than an adaptation, this is a unique imagining of two beloved picture books, Edward the Emu and Edwina the Emu, combining the plights of both emus in one heartfelt, clever and funny new tale.Edward is bored with his lot. Being the only emu at the zoo has left him feeling glum and under the impression that the grass is greener in everyone else's enclosure. Maybe being a seal, or a lion, or a snake might be a better option in life for a lonely bird? Convinced that the other creatures are more popular, Edward breaks ranks and goes to find the fun and along the way, finds Edwina! Written for the stage by Monkey Baa's Artistic Director Eva Di Cesare (Diary of a Wombat, Josephine Wants to Dance) we follow the emus as they hilariously navigate their own feathered existential crises, seeking to find their place in the world. Meanwhile, unaware of the birds' internal worlds, their human keepers are in hot pursuit to restore order to the zoo.With exceptional, world-class puppet creation from Bryony Anderson and Alice Osborne's puppetry direction, an original score from composer/sound designer Nate Edmondson, set and costume design by Isabel Hudson (Best Stage Design of An Independent Production, 2020 Sydney Theatre Award), lighting design by Matt Cox and inventive storytelling from Di Cesare, the emus' journey of hijinks and tenderness leads them to discover that the best thing you can be is... you!Monkey Baa Theatre Company has been creating classic, much-loved productions for young people for over 20 years. Edward the Emu carries on the vision to make theatre an intrinsic part of young people's lives with the quality, humour and heart that has made Monkey Baa a favourite of families across Australia.Recommended age group: 4-10 years and their familiesDuration: 50 minutes - no intervalMembers: $15Full: $25Concession: $20Youth U/18: $15Family of 4*: $69*Family of 4 consisting of 2 Adults & 2 Children, or 1 Adult & 3 Children. West Gippsland Arts Centre's 2022 Every Child, Every Year Season is proudly sponsored by:
West Gippsland Arts Centre
Theatre 1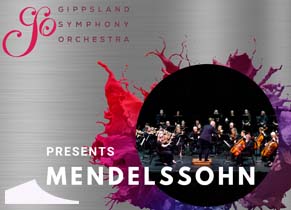 Music Fine, Family/Children, Group
Gippsland Symphony Orchestra
Sunday 7 August 2:00pm                                                                                        Rightly taking his place in the pantheon of Classical music greats, Felix Mendelssohn is one of the most important German composers of all time. His music faultlessly combines the expressive elements of Romantic music with the clarity of Classical music and perfectly reflects the artistic attitude of his time: clarity, balance and discipline.A prolific composer, Mendelssohn composed significant works in all styles during his short life, and is particularly known for his symphonies and overtures, including the overture for A Midsummer Night's Dream and two oratorios – Elijah and St Paul.Gippsland Symphony Orchestra is delighted to be presenting a celebration of Mendelssohn with the following pieces:Overture to A Midsummer Night's Dream, Opus 21Mendelssohn adored the writing of Shakespeare and the overture, written when he was 17 years old, perfectly captures the works of fairies Oberon and Tatiana and the myriad characters that Shakespeare created.Symphony No. 4 in A Major, op 90 (Italian)After touring extensively and taking inspiration from his time in Italy, Mendelssohn described his Symphony No. 4 as the "happiest piece I have ever written" and is considered by many as being the 'perfect' symphony. Ironically, it was in 1851, four years after his death that it was published for the first time.String SymphoniesMendelssohn wrote 13 string symphonies between 1821 and 1823 (aged 12 to 14) which mirror the masterworks of Haydyn, J.C. Bach, C.P.E. Bach and Mozart. These symphonies are mature beyond the young years of the composer and point to the brilliance of his later symphonic works where he experimented with three, four and five movement forms.Book your tickets now for an afternoon of music presented by Gippsland's own symphony orchestra.Full: $25Concession: $20Youth U18: $15
West Gippsland Arts Centre
Theatre 1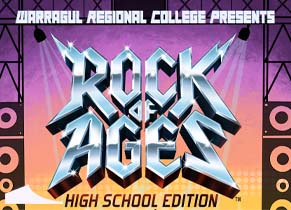 Music Theatre, Music Pop/Rock/Contemporary, School
Rock of Ages:
Fri 12 - Sat 13 August                                                                   Friday 12 August 7:30pmSaturday 13 August 2:00pm & 7:30pmWarragul Regional College presents Rock of Ages.It's the tail end of the big, bad 1980s in Hollywood, and the party has been raging hard. Aqua Net, Lycra, Heavy Metal flow freely at one of the Sunset Strip's last legendary venues, a place where legendary rocker Stacee Jaxx takes the stage and groupies line up for their chance at an autograph.Amidst the madness, aspiring rock star (and resident toilet cleaner) Drew, longs to take to the stage as the next big thing - and longs for small-town girl Sherri, fresh off the bus from Kansas with stars in her eyes. But the rock and roll fairy-tale is about to end when German developers sweep into town with plans to turn the fabled Strip into just another capitalist strip mall.Can Drew, Sherri and the gang save the strip -and themselves - before it's too late? Only the music of hit bands Styx, Journey, Bon Jovi, Whitesnake and more hold the answer.Duration: 2 hours and 5 minutes including an intervalMembers: $25Full: $30Concession: $20Youth U/18: $20Family of 4*: $80 Family of 4 consisting of 2 adults and 2 children, or one adult and 3 children.
West Gippsland Arts Centre
Theatre 1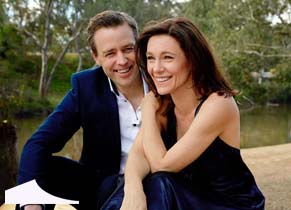 Daylight Entertainment
Heart & Music
Thursday 18 August 11:00am                                                                   International Musical Theatre stars Simon Gleeson and Natalie O'Donnell share not just the stage, but also a life and two children.Helpmann Award winner Simon Gleeson, best known for his acclaimed portrayal of Jean Valjean in Les Misérables, is a leading man with credits that span the main stages of Australia and London's West End.Natalie O'Donnell most recently delighted audiences as Donna in Mamma Mia! for which she received a Helpmann Award nomination. She has carved out an extensive career in London and Australia on stage and screen.Join them as they come together to perform the classic songs from Rodgers and Hammerstein through to The Greatest Showman, with some Billy Joel thrown in for good measure.Heart and Music offers an intimate performance of song and storytelling, which celebrates the music that has shaped both their careers and lives together.Duration: 70 minutes no intervalMembers: $25Full: $30Concession: $27Group 10+: $23Youth U/18: $15
West Gippsland Arts Centre
Theatre 1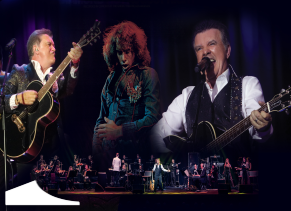 Music Pop/Rock/Contemporary
50th Anniversary of Neil Diamond's Hot August Night
Friday 19 August 8:00pm                                                                   A recreation of one of the greatest live albums of all time...Celebrating the 50th anniversary of the legendary recording Hot August Night, Peter Byrne brings Neil Diamond to you together with a 30-piece symphony orchestra.It is exactly 50 years to the day since Neil Diamond stepped on stage at the Greek Theatre in Los Angeles with a symphony orchestra and recorded what is still known today as one of the greatest epic live albums of all time.Now that album will be re-created in its original format in a national tour by Peter Byrne and the Australian Pops Orchestra.Featuring classic songs Crunchy Granola Suite, Cherry Cherry, Sweet Caroline and I Am I Said, see the same spontaneous display of energy and sensuality of Neil Diamond with the superb talents of Peter Byrne.Peter has the capacity to recreate Neil Diamond to a standard that Neil himself has endorsed on many occasions on hearing Peter's tribute. Neil Diamond recently announced retirement from live performing due to illness and many of his fans both in Australia and worldwide were devastated and saddened at the news, so Peter decided to salute 50 years of his music with some special moments in the show. This is as real as Neil could be.With a 30-piece symphony orchestra Peter reenacts every song from the albums as Diamond recorded it. After sell out shows in Australia over the last 20 years and Peter's first sell out tours of Ireland in 2019 and 2022, Hot August Night returns to Victoria on Friday 19 August 2022 at West Gippsland Arts Centre with John Foreman's Australian Pops Orchestra."The day I see a better Diamond, will be the day the man himself appears on stage..."     ... Adrian Revere - The MercuryDuration: 2 hours and 30 minutes including an intermission.All Tickets: $79.90
West Gippsland Arts Centre
Theatre 1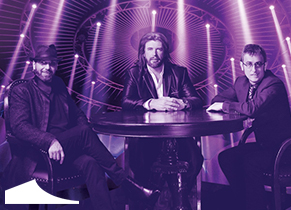 Music Blues/Jazz/Swing/Folk, Music Pop/Rock/Contemporary
The Australian Bee Gees Show
Saturday 20 August 8:00pm                                                     Fresh from celebrating 10 years and over 3000 shows headlining on the Las Vegas strip, the Australian Bee Gees Show will be heading Down Under for the Australian leg of their 25th anniversary tour!This new show will be presented in two parts and feature all of the hits in a nostalgic trip down memory lane in a multimedia concert event.The Australian Bee Gees Show is currently performing at The Excalibur Hotel and Casino and has been in residence for the past 9 years and have just signed a new 5-year contract that will keep the ABGShow headlining in Las Vegas until 2024. The group has racked up over 3000 performances on the Las Vegas Strip and was recently voted Best Tribute Show in Las Vegas by the prestigious Las Vegas Review Journal and has made the top 10 in the 'Overall Best Show' category, an amazing achievement in Las Vegas.The Australian Bee Gees show was also the first Australian band to perform 1000 shows headlining on the Famous Las Vegas Strip and with 3000 shows already under their belt in Vegas alone they are looking forward to continued success in Sin City.After 25 years on the world stage and over 8,000 performances in over 60 countries, The Australian Bee Gees Show has evolved to become the definitive live celebration of the wonderful music written by the Brothers Gibb.From their first shows in 1996, The Australian Bee Gees Show has conquered Las Vegas and has played to capacity houses around the world, cementing their reputation as an exceptional live concert act and the world's leading Bee Gees Show.For one night only be a part of the magic that is, The Australian Bee Gees Show.Duration: Approximately 120 minutes including intervalFull: $57.50Concession: $52.50
West Gippsland Arts Centre
Theatre 1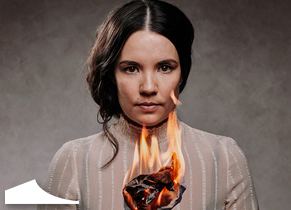 Drama
Jane Eyre
Wednesday 24 August 7:30pm                                                      Charlotte Brontë's iconic gothic tale, boldly adapted for the stage by critically-acclaimed shake & stir theatre co.Brontë's gothic tale of a spirited orphan in search of love, family and a sense of belonging, blazes the country in 2022.Witness one of the most iconic pieces of English literature retold in a faithful yet fiercely original new stage adaptation from the nationally-renowned shake & stir theatre co (Animal Farm, Dracula).Following a childhood spent suffering at the hands of her cruel Aunt, Jane finds employment at Thornfield Hall – the impressive yet mysterious home of Edward Rochester. As Jane and Rochester become inexplicably drawn to each other, the dark secrets locked within the walls of Thornfield start to unravel forcing Jane on a heart-wrenching journey toward truth and freedom.This stunning new production, featuring original music, written and by multi ARIA Award winner Sarah McLeod, will set a fire blazing in your soul."A blazing success" - Broadway World"Another shake & stir production destined for hit status." - Stage WhispersCo-Adaptors Nelle Lee and Nick SkubijDirector Michael FutcherDesigner Josh McIntoshComposer Sarah McLeodLighting Designer Jason GlenwrightAdditional Music and Sound Designer Guy WebsterDuration: 2 hours 25 minutes including intervalMembers: $42Full: $50Concession: $45Youth U/18: $33
West Gippsland Arts Centre
Theatre 1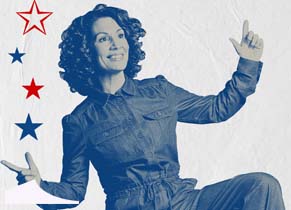 Comedy Stand Up
Kitty Flanagan LIVE
Friday 26 August 8:00pm                                                                   You've seen her on Fisk, Utopia and Have You Been Paying Attention? She wrote a best selling book called 488 Rules for Life.But now, after a year at home drinking hand sanitiser & tonic, Kitty Flanagan is finally back on stage doing what (she thinks) she does best, solving the world's problems. All of them. Get involved!Duration: 1 hour and 20 minutes, no intervalFull: $59.90Concession: $54.90Youth aged 15+: $54.90Groups 10+: $54.90
West Gippsland Arts Centre
Theatre 1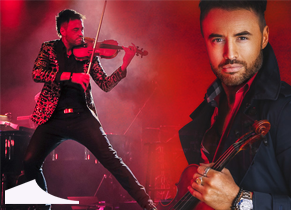 Music Fine, Music Pop/Rock/Contemporary, Family/Children
Patrick Roberts - The Prince of the Violin
Saturday 27 August 7:30pm                                                                   Be serenaded by the award-winning ARIA chart topping violinist Patrick Roberts as he performs songs by The Beatles, Sting, Coldplay, Air Supply, U2, Elvis Presley and many more.Mesmerising audiences far and wide with his emotional and evocative performance style, Patrick Roberts has been performing globally for over 30 years.Patrick has transformed some of the much-loved classics into contemporary masterpieces. Be transported to another world with his special versions of songs such as Can't Help Falling in Love, Always on my Mind, Fields of Gold, La Vie En Rose and many more.Patrick has performed around the world and has played his own headline shows throughout mainland China, Japan, USA, Australia and Europe. This year marks a very special year as he has just launched his brand-new album Fragile, featuring the legendary Sting and Tommy Emmanuel CGP.A collection of the world's most beloved songs, Fragile mirrors the incredible journey of the human spirit. The album debuted at No.1 on the ARIA Classical/Crossover charts on its first week and is now the most popular Classical/Crossover album worldwide.'Australia's Prince of the Violin.' Broadway World'He has broken the mould of classical music.' LimelightAll Tickets: $55
West Gippsland Arts Centre
Theatre 1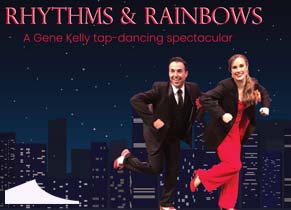 Daylight Entertainment
Rhythms & Rainbows
Friday 2 September 11:00am                                                     They were both contracted to Metro Goldwyn Mayer; one was a star on the rise and the other was already a huge star.Now in one brilliant song and dance spectacular, Rhythms & Rainbows brings together the extraordinary talents of the legendary Gene Kelly and Judy Garland in a spellbinding concert paying tribute to these magnificent stars of Hollywood and Broadway's golden age of musicals.Starring 'dancing man' Mikey Halcrow and leading lady Sophie Loughran together with Matt Hadgraft on piano, step back in time as they take you on a musical journey through the life, music and dance of Gene Kelly and Judy Garland.With powerhouse vocals, stunning tap dancing, fabulous costumes and featuring some of the most beloved songs from their three movies together as well as songs from their own films and TV Shows, including Get Happy, Me and My Gal, If You Knew Susie, You Made Me Love You, The Trolley Song, Singin in the Rain and many more, Rhythms & Rainbows is pure entertainment bliss.Duration: Approximately 80 minutes no intermissionMember: $25Concession: $27Full: $30Group 10+: $23Youth U/18: $15 West Gippsland Arts Centre's 2022 Daylight Entertainment Season is proudly sponsored by:
West Gippsland Arts Centre
Theatre 1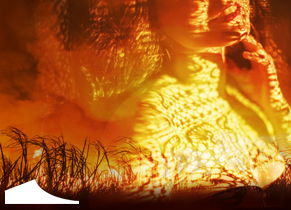 Physical Theatre, Drama
Summer of the Seventeenth Doll
Tuesday 13 September 7:30pm                                                                   Plays and playwrights go in and out of fashion but some endure and speak to each subsequent generation. Lawler's much loved tale of Queensland cane cutters and Melbourne barmaids has endured, not through nostalgia, nor because it spawned a new age in Australian writing, but because the characters and their dilemmas are so true, so beautifully observed, so humorous and so poignant.A triumph at its 1955 Melbourne premiere, followed by a national tour and hugely successful season in London's West End where it won an award for best new play, this 2020 production of the Australian classic Summer of the Seventeenth Doll celebrates the 65th Anniversary of this iconic play.For sixteen years two Queensland cane cutters have worked the punishing routine up north in the sugar cane fields for seven months of the year and travelled back to Melbourne to meet up for five months of partying and romance with their barmaid girlfriends. This seventeenth summer everything is different. One of the barmaids has 'settled down' and married a city bloke so a replacement date has had to be found. This 'off-season' proves challenging for them all.This production will be directed by the award-winning Denny Lawrence whose history with HIT includes many successful productions including Shirley Valentine, Always…Patsy Cline, Educating Rita, Glorious! Hotel Sorrento and most recently, My Brilliant Divorce. Denny will be supported by a highly-experienced creative team.Duration: 2 hours & 30 minutes including intervalMembers: $35Full: $43Concession: $40Youth U/18: $25
West Gippsland Arts Centre
Theatre 1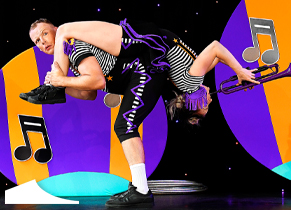 Family/Children, Physical Theatre
Brass Monkeys
Sunday 2 October 2:00pm                                                    The creators of Children are Stinky bring you an all new, action-packed, super exciting circus spectacular.Brass Monkeys celebrates kids who march to the beat of their own drum. Bursting with high calibre acrobatics, a ton of comedy, live music and high flying tricks, this show is perfect for little kids and grown ups who like a big brass belly laugh!Performed by powerhouse duo Kyle Raftery and April Dawson (Lunar Circus, Circus Oz) and directed by Malia Walsh (Circus Trick Tease).This trio of artists are famous for combining circus skills of epic proportion and comedy for all ages.Recommended for children between 3-10 and grown ups who like a laugh.Duration: 60 minutes no intervalMembers: $20Full: $27Concession: $25Youth U/18: $15Family of 4*: $75*Family of four consisting of 2 Adults & 2 Children, or 1 Adult & 3 Children.
West Gippsland Arts Centre
Theatre 1
Daylight Entertainment
What's New Pussycat
Thursday 6 October 11:00am                                                     What's New Pussycat is a joyous, foot stamping, hand clapping celebration of the swinging sixties.Vocal pyrotechnics, breath-taking harmonies and off the wall humour all feature in this celebration of the hits of Tom Jones, Burt Bacharach, Petula Clark, Aretha Franklin, Dusty Springfield, Carole King and The Fab Four performed by Australia's favourite cabaret duo, Melissa Langton and Mark Jones."An irresistible double act" - The Sunday AgeDuration: Approximately 75 minutes no intermissionMember: $25Concession: $27Full: $30Group 10+: $23Youth U/18: $15 West Gippsland Arts Centre's 2022 Daylight Entertainment Season is proudly sponsored by:
West Gippsland Arts Centre
Theatre 1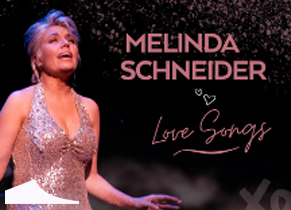 Music Pop/Rock/Contemporary
Melinda Schneider
Saturday 29 October 8:00pm                                                              Multi Golden Guitar Award winner and chart-topping singer/songwriter, Melinda Schneider, presents LOVE SONGS: an intimate two-hour concert production featuring Melinda's Golden Guitar winning hits plus the greatest love songs from some of Melinda's most cherished singer/songwriters.LOVE SONGS is a show inspired by the unconditional love Melinda has found with her long-time partner, Mark Gable, whom she will marry in October 2021. 'I've been living in un-wedded bliss for the past thirteen years with Mark, but our little boy Sullivan, who is eight, came to me last year and said; 'Will you please marry daddy? I just don't want anyone else to marry you!' 'How could I refuse such a beautiful proposal' Melinda explained.In this emotional, intimate and soulful performance, backed by talented pianist, Stefan Nowak, Melinda will perform a selection of her own original love songs spanning her 40 years in entertainment together with some timeless romantic cuts from the likes of Carole King, Joni Mitchell, Dolly Parton and more. Melinda will also preview new songs from her forthcoming 15th studio album to be released in March 2022.Melinda continues to tour the country every year as a live performer, all while writing, recording and advocating for mental health, having shared her own lived experience of it in late-2020.In recognition of her artistic achievements, Melinda has won six CMAA Golden Guitar Awards and is a two-time ARIA Award nominee and an APRA Award nominated songwriter. Melinda's songs have been recorded by numerous artists, including John Farnham, Olivia Newton-John and Paul Kelly. To date, Melinda has released 14 studio albums, two of which are gold-certified records and she is closing in on a third with her Melinda Does Doris: A Tribute to Doris Day album.Come and celebrate love, with Melinda Schneider in LOVE SONGS.All Tickets: $59
West Gippsland Arts Centre
Theatre 1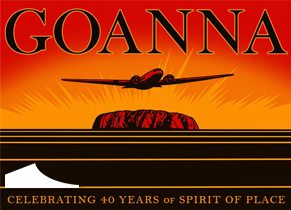 Music Pop/Rock/Contemporary
GOANNA
Friday 4 November 7:30pm                                                                       Forty years on, and with their messages of positive engagement in Indigenous rights and environmental protection more relevant than ever, Australian icons Goanna return to celebrate their multi-platinum, game-changing debut album 'Spirit of Place'.In the early '80s, in the midst of Aussie Rock's golden age, Goanna helped forge a new Australian identity. Before Midnight Oil and Paul Kelly addressed similar issues, the iconic 'Solid Rock' stoked a fire for Indigenous rights that hasn't gone out, while the anthem of 'Let The Franklin Flow' was a call to arms for the emerging environmental movement. Soulful, lyrical, brimming with musicality and creative volatility, Goanna mixed classic folk song craft with spirited roots rock, helping to establish a musical thread that remains vital and ubiquitous in Australian music today.In 2022, Shane Howard, Rose Bygrave, Marcia Howard and Graham Davidge, with special guests, embark on a new journey. Reigniting the Goanna spirit once more and paying homage to their classic songs.Duration: 2 Hours 30 minutes including an intermissionAll tickets: $80.90
West Gippsland Arts Centre
Theatre 1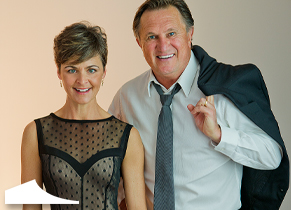 Music Pop/Rock/Contemporary
Frankie J Holden & Michelle Pettigrove
Friday 11 November 11:00am                                        Frankie J Holden and Michelle Pettigrove are one of Australia's most popular homegrown showbiz couples.Michelle is best known for her three year role as Kate Bryant in the well-loved Australian drama series A Country Practice and numerous other television appearances including Brides of Christ, Home & Away, Blue Heelers and City Homicide.Frankie J got his start in the rock group OL'55 and throughout his career has created some of Australian television's most memorable characters through leading roles in Police Rescue, Round The Twist, Something In The Air, Underbelly and recently A Place To Call Home. As a TV presenter, he was part of the team on The Great Outdoors and hosted In Melbourne Tonight.Their show has a special resonance with their own lives and there is sure to be much that you will relate to as well. The show is about living and loving, full of music you will know and packed with laughs. A great opportunity to see two talented performers "up close and personal".Duration: 70 minutes no intervalMembers: $25Full: $30Concession: $27Group 10: $23Youth U/18: $15
West Gippsland Arts Centre
Theatre 1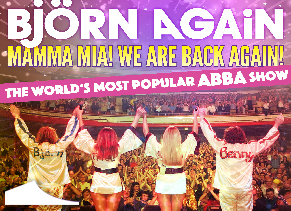 Dance, Music Pop/Rock/Contemporary
BJORN AGAIN-Mamma Mia!
Friday 11 November 8:00pm                                                     Dust off those flares, platform shoes and satins and get ready to sing, dance and have the time of your life on Bjorn Again's MAMMA MIA! WE ARE BACK AGAIN! Tour.Bjorn Again are so excited to be back playing all of ABBA's biggest hits in an action-packed, highly-entertaining concert that is ABBA-SOLUTE fun for the whole family.Bjorn Again have performed over 7000 in over 120 countries world-wide, are endorsed by the members of ABBA and are regarded as the most successful tribute show of all time.Their critically acclaimed shows have been attended by JK Rowling, Tom Jones, Dave Grohl and Paul Kelly, Metallica, Robert Plant, Bill Gates and Nirvana just to name a few."If ABBA reformed they wouldn't be as much fun as Bjorn Again" Q Magazine UK"Fans had better make the most out of Bjorn Again because that's the closest they are going to get to seeing ABBA. ABBA will never reform!" Benny Andersson of ABBA"The best of luck. Anyone who looks like me ought to have a successful career!" Bjorn UlvaeusSo what are you waiting for? Send out an SOS and RING RING Fernando and Chiquitita and TAKE A CHANCE on BJORN AGAIN'S MAMMA MIA! WE ARE BACK AGAIN! 2022 AUSTRALIAN TOURYOU WILL HAVE THE TIME OF YOUR LIFE! BOOK NOW!Members: $65Full: $79Concession: $69Youth U/18: $69Group 10+: $69
West Gippsland Arts Centre
Theatre 1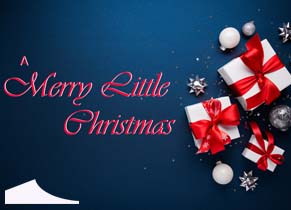 Daylight Entertainment
A Merry Little Christmas
Friday 16 December 11:00am                                                     Celebrate the year and the spirit of the season with West Gippsland Arts Centre as we present for you A Merry Little Christmas.Narrated by Chris McKenna this highly entertaining Christmas concert will feature Australian tenor Roy Best along with soprano Alison Jones singing all your favourite carols and a few contemporary Christmas songs. With plenty of laughs along the way and a special cast of local artists, this show will be just the ticket to warm your hearts leading into Christmas.We can't wait to share A Merry Little Christmas with you.Duration: Approximately 75 minutes no intervalMember: $25Concession: $27Full: $30Group 10+: $23Youth U/18: $15 West Gippsland Arts Centre's 2022 Daylight Entertainment Season is proudly sponsored by:
West Gippsland Arts Centre
Theatre 1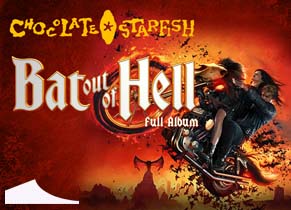 Music Pop/Rock/Contemporary
Chocolate Starfish
Friday 3 March 8:00pm                                                                                           Chocolate Starfish powered on to the Australian music scene in the early 1990s and quickly established themselves as an influential force with their cover of Carly Simon's You're So Vain, original hit Mountain and perennial favourite Four Letter Word. They wholeheartedly earned their reputation as one of Australia's best live bands of the '90s, and now they are back by overwhelming demand with Bat Out of Hell, the album and show that kicked off their acclaimed Classic Album Series.The exhilarating show featuring the full Bat Out of Hell album, plus classic songs by the master himself, Jim Steinman, and capped off with Chocolate Starfish hits, has Australia's most entertaining rock band continuing to live up to its reputation with this spectacular selection of songs honoured in true Starfish style.Just as they put their own slant on Carly Simon's You're So Vain, the 'Fish approach each song with their trademark intensity and revelry that elevates the experience well beyond a tribute. With a nod to the original and a glint in their eyes, they imbue the songs with their signature flair and theatrics.Chocolate Starfish has enthralled audiences with the Classic Album Series since its inception with Bat Out of Hell in 2015 and the band are 'all revved up' to return to the Series' roots.Lead singer Adam Thompson says that in revisiting the full album show, he hopes to share the impact the Bat Out of Hell album had on him with audiences. "The first time I heard Bat Out of Hell, I was 13 and had little musical influence outside a conservative regional radio station," he recalls. "Bat Out of Hell songs and Meat Loaf's voice transported me out of that country isolation and into a fantasy world of sonic ear candy I didn't know existed. Soaring hook-laden melodies, and adjective-filled lyrics around life, death, girls, cars and motorbikes, was everything a trapped teenaged boy could imagine outside his small world. On top of that, each song was an epic of dynamic proportions, and it shaped the theatrical and dynamic way I looked at song writing and performance ever since."The Bat Out of Hell Tour promises audiences what they know and love about a Chocolate Starfish show – pure, unadulterated entertainment and, as always, a few surprises.All Tickets: $69
West Gippsland Arts Centre
Theatre 1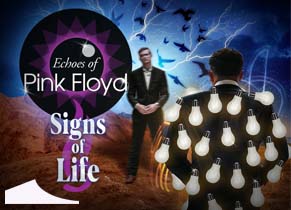 Music Pop/Rock/Contemporary
Echoes of Pink Floyd
Saturday 4 November 2023 8:00pm                                                                   Presented by Arnold Lane PromotionsA celebration of the 35th Anniversary of the Delicate Sounds of Thunder TourIn 1988, Australia witnessed a rock concert event unprecedented in its scale, scope, and impact by English powerhouse rockers Pink Floyd, touring their smash hit A Momentary Lapse of Reason album, which was filmed and released as a live album, titled The Delicate Sound of Thunder.35 years later, Australia's own Echoes of Pink Floyd have painstakingly crafted homage to this amazing concert experience taking the audience on a voyage back to those heady years of 1988, with the best songs from the Delicate Sound of Thunder tour, and the smash hits and stadium anthems they know and love.Signs of Life will take the listener on a voyage, bringing back those heady years of 1988, with the best songs from the Delicate Sound of Thunder tour lovingly reproduced for Pink Floyd fans of all ages and backgrounds. Audiences will be able to thrill to tracks that have not been performed live in this country for decades, as well as enjoy all the smash hits and stadium anthems they know and love.Duration: 2 hours and 15 minutes including an interval.Full: $79Concession: $74Youth U/17: $49
West Gippsland Arts Centre
Theatre 1