Music Pop/Rock/Contemporary
Elvis If I Can Dream
Saturday 20 March 8:00pm Direct From a Sold Out International Tour and endorsed by Elvis Presley Enterprises & Graceland USA, Mark Anthony is Elvis - If I Can Dream.     Come and celebrate the magical hits of The King of Rock'n'Roll in a sensational 2 hour concert spectacular. All of Elvis' No 1 hits will be performed in the original style that made Elvis the greatest performer that ever lived. With over 600 million record sales worldwide and 3 Grammay Awards, Elvis Presley will always be known as The King of Rock'n'Roll and internationally renowned artist Mark Anthony, who has been regarded as the very best Elvis Presley tribute artist in the world, will transport you to that very time when Elvis Presley ruled the world and dominated the record charts in the '50s, '60s & '70s. Mark's stage presence, incredible vocal ability and authentic costuming, is backed by his amazing and energetic band. Together they bring the Elvis experience to a whole new level. Come and experience what it would have been like to see Elvis Presley Live In Concert. It's fun for me to watch Mark perform, because he reminds me so much, of my old friend Elvis Presley... Mark's show pays tribute to Elvis for all the right reasons, and brings back memories of when we were there on stage with the man himself! Keep up the great work Mark... – Joe Moscheo of The Imperials. The Imperials toured with Elvis from 1969 till 1972 and recorded two Gospel albums with him. Full $69.90,Concession: $64.90Members/Group 10+: $59.90Youth U/18: $49.90
West Gippsland Arts Centre
Music Fine
GSO In Chambers:
Sunday 24th January 2:00pm Mozart Symphony No 22Symphony No 31 'Paris'...plus selected chamber works. Full: $25,Youth U18: $20,Concession: $15
West Gippsland Arts Centre
Comedy Stand Up
Jimeoin - Ramble On
Saturday 24 April 8:00pm A Stalwart of Australian comedy and all round likeable rogue, comedian Jimeoin, in his new stand up show Ramble On!, happily imparts his clever and quirky observations on everyday suburban life with his trademark devil-may-care style. 'Recalls the familiar at fantastically silly level, boiling his audience down to a tear-filled, gibbering mess' - (Scotland on Sunday). 'Hilarious... If laughter's the best medicine, Jimeoin is a course of steroids... Don't miss it!' - (Edinburgh Evening News). Full: $59.90,Members/Concession/Youth U/18: $54.90
West Gippsland Arts Centre
Music Blues/Jazz/Swing
Leaving Jackson
Saturday 3 July, 7:30pm All the hits in this unforgettable music concert dedicated to the music, love and lives of Johnny Cash and June Carter. For more than 40 years Johnny Cash and June Carter enthralled audiences around the world with their songs of life, love and heartache. A love story played out through some of the greatest songs ever written. Now JEFF CARTER together with BROOKE McMULLEN bring to life a captivating and unforgettable musical concert. This 2 hour live concert event "LEAVING JACKSON" The Johnny Cash & June Carter show will have you singing, laughing and crying for more. Duration 2 hours and 20 minutes with interval. Full: $59,Concession/Group 10+/Members: $55,Youth U18: $25
West Gippsland Arts Centre
Drama
Rabbit Hole
Presented by Off The Leash Theatre Thursday 25 February 8:00pm - Black Box / Theatre TwoFriday 26 February 8:00pmSaturday 27 February 2pm & 8pmSunday 28 February 2pm Becca and Howie Corbett have a picture perfect family life in the suburbs until a random, tragic accident takes the life of their four-year old son. Soon after, Becca's younger, irresponsible sister, Izzy, announces that she is pregnant: there will now be a new child in the family. As Becca and Howie grow apart, Becca's mother, Nat, badgers Becca about her grieving process, and Jason, the younger driver who killed their son, continually shows up to ask forgiveness, the group is on a bumpy road to healing with no road map in sight. Rabbit Hole delves into the complexity of a family navigating deep grief, and learning what it means to live a fruitful life when things fall apart. Full $38Concession: $33WGAC Members: $33Group 10+: $33 Please note that Covid-19 restrictions apply.Event will be conducted with Covid-19 safe principles and procedures in place. All attendees contact details will be recorded. Please enact social distancing and wear a mask as required.
West Gippsland Arts Centre
Music Pop/Rock/Contemporary
Rockin Through The Ages
Saturday 9 October 2021 7:30pm When the doors open you'll enter the theatre to original music clips and TV commercials from the '50s, '60s & '70s before the band hits the stage and kicks the first song off with the Bill Haley classic 'Rock Around The Clock'. In an instant you'll be dancing in your seat and watching the original video clips on the big screen.   This high energy show encourages you to join in and sing along with some of the greatest number one hits of all times from Elvis Presley, Roy Orbison, Neil Diamond, Tom Jones and also great bands like Daddy Cool, The Monkees, Dr Hook and many more.   The show is performed and delivered by three seasoned professionals and cheeky entertainers in Greg (Bankxy) Bankx, David (Sprouty) Cail & Steve Cummins and is backed by the Rock'n through the Ages Band. Rock'n through the Ages is a totally fun and nostalgic show that guarantees to please. Full $59.90,Concession/Group 10+: $55Youth U/18: $45
West Gippsland Arts Centre
Music Pop/Rock/Contemporary
The Australian Bee Gees Show
Sunday 29 August 2021 8:00pm Fresh from celebrating 10 years and over 3000 shows headlining on the Las Vegas strip, the Australian Bee Gees Show will be heading Down Under for the Australian leg of their 25th anniversary tour! This new show will be presented in two parts and feature all of the hits in a nostalgic trip down memory lane in a multimedia concert event. The Australian Bee Gees Show is currently performing at The Excalibur Hotel and Casino and has been in residence for the past 9 years and have just signed a new 5-year contract that will keep the ABGShow headlining in Las Vegas until 2024. The group has racked up over 3000 performances on the Las Vegas Strip and was recently voted Best Tribute Show in Las Vegas by the prestigious Las Vegas Review Journal and has made the top 10 in the 'Overall Best Show' category, an amazing achievement in Las Vegas. The Australian Bee Gees show was also the first Australian band to perform 1000 shows headlining on the Famous Las Vegas Strip and with 3000 shows already under their belt in Vegas alone they are looking forward to continued success in Sin City. After 25 years on the world stage and over 8,000 performances in over 60 countries, The Australian Bee Gees Show has evolved to become the definitive live celebration of the wonderful music written by the Brothers Gibb. From their first shows in 1996, The Australian Bee Gees Show has conquered Las Vegas and has played to capacity houses around the world, cementing their reputation as an exceptional live concert act and the world's leading Bee Gees Show. For one night only be a part of the magic that is, The Australian Bee Gees Show. www.abgshow.com www.facebook.com/TheAustralianBeeGees Full Price: $57.50 Concession: $52.50
West Gippsland Arts Centre
Music Pop/Rock/Contemporary
The Traveling Wilburys Sessions
Saturday 6 March, 8:00pmThe Traveling Wilburys was a supergroup.Any band in which Tom Petty and Jeff Lynne are the 'unknowns' would have to be very special. George Harrison, Bob Dylan and Roy Orbison are giants of popular music who completed this magical lineup. They are adored by all generations of music lovers.Now their songs have been re-imagined for Australian concert audiences. Music director Sam See has assembled a knockout band featuring James Black, Lindsay Field , Glyn Mason, Angus Burchall and Paul Cartwright. Together they create an unforgettable experience featuring sensational vocals, knockout harmonies and gargantuan guitar work as they pay tribute to the Wilburys and its superstar members.It doesn't get much better.Some of Australia's favourite musicians have come together to reimagine the Traveling Wilburys' great hits and breathe new life into some of the individual artists' favourite songs.James Black, keyboardist, guitarist and music director of The RocKwiz Orkestra has played with rock royalty Mondo Rock and The Black Sorrows. Lindsay Field sings with John Farnham and has performed with Jimmy Barnes, Glenn Shorrock, Olivia Newton-John and Renee Geyer. Sam See, music director, guitarist and a founding member of Sherbet, has played with and been music director for John Farnham, Brian Cadd and Steve Vizard's Tonight Live. Glyn Mason has sung and played with Brian Cadd, Chain, Ariel and Copperwine. Lindsay, Sam and Glyn are well known on Melbourne's acoustic rock scene as Field, See & Mason. Angus Burchall drums with John Farnham and Olivia Newton-John. Paul Cartwright on bass has played with Glenn Shorrock, David Bridie and Wendy Matthews.120 minutes, 20 minute interval.Members: $62.50Full: $69Concession: $65.50
West Gippsland Arts Centre
Music Pop/Rock/Contemporary
WANNABE
Tuesday 17 August 2021, 7:30pm Stop right now! Thank you very much. It's time to Spice Up Your Life like it's 1996. Relive the '90s through the hits of the Spice Girls on this Spice World journey; all you have to do is Say You'll Be There. Swing it, shake it, move it, make it down and if you think it's all a bit Too Much, then really – Who Do You Think You Are?! So, if you Wannabe my lover, you've got to go and see this show! "A Vibrant Showstopper!" **** Theatre Weekly Experience Ginger, Scary, Sporty, Baby and Posh together on stage for a night where you can Zig-A-Zig-Ahhhh. Bring your moves, bring your outfits and bring your GIRL POWER! After opening in 2017 to rave reviews, WANNABE has toured the UK, Europe & headlined the Edinburgh Fringe Festival. Having played to over 100,000 Spice Girls fans, WANNABE is now the longest running Spice Girls stage show in the World. Inspired by the Spice Girls career, the show features classic costumes, unique vocal & musical arrangements, iconic dance routines and spectacular visual flair. Expect your favourite hits including Wannabe, Stop, Say You'll Be There, Who Do You Think You Are, Viva Forever, Too Much, Goodbye, Holler, 2 Become 1, Mama, Spice Up Your Life and some thrilling fan-favourite moments exclusive to the show. "Any true fan will jump from their seat" - **** Theatre Weekly In 1996 Melanie Brown, Melanie Chisholm, Emma Bunton, Geri Halliwell, and Victoria Beckham, became the Spice Girls we know and love today, launching their debut single 'Wannabe' which went on to top the charts in 31 countries around the world. The group are now officially the biggest and best-selling girl band of all time, adored and revered all over the world. They have sold 85 million records worldwide and their Girl Power attitude inspired a generation. "Definitely a favourite nineties guilty pleasure everyone should enjoy ***** Raring2Go All Tickets: $55
West Gippsland Arts Centre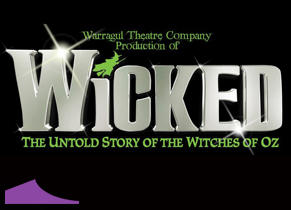 Music Theatre, Family/Children
Wicked
Friday 21 May, 7:30pmSaturday 22 May, 1:30pm & 7:30pmSunday 23 May, 1:30pmThursday 27 May, 7:30pmFriday 28 May, 7:30pmSaturday 29 May, 1:30pm & 7:30pmPresented by Warragul Theatre CompanyMusic and Lyrics by Stephen Schwartz, Book by Winnie HolzmanWicked tells the incredible untold story of an unlikely but profound friendship between two girls who first meet as sorcery students at Shiz University: the blonde and very popular Glinda and a misunderstood green girl named Elphaba. Following an encounter with The Wonderful Wizard of Oz, their friendship reaches a crossroads and their lives take very different paths. Glinda's unflincing desire for popularity sees her seduced by power while Elphab's determination to remain true to herself, and to those around her, will have unexpected and shocking consequences for her future. Their extraordinary adventures in Oz willl ultimately see them fulfil their destinies as Glinda The Good and the Wicked Witch of the West.Full: $48Members/Concession/Group10+: $43Youth U18: $33
West Gippsland Arts Centre
Music Theatre
World of Musicals
Wednesday 7 July 7:30pm World of Musicals brings the very best of musical theatre to life. This incredible production will return to Australia in 2020 with a brand new production and the wonderful revue of all your favorite musical theatre hits including such classics as; The Lion King, Fiddler On The Roof, Mamma Mia, We Will Rock You, The Mikado, The Pirates of Penzance, HMS Pinafore, The Phantom of the Opera, West Side Story, Cats, Evita, Wicked, The Rocky Horror Picture Show, Jesus Christ Superstar, The Greatest Showman, Jersey Boys, Oklahoma, South Pacific, Miss Saigon, The Boy from Oz, Hairspray, Les Misérables and The Blues Brothers. World of Musicals features colourful, inspiring and memorable musical classics, all performed by an international star-studded cast, presenting the audience with entertainment at the highest level. Whether a soloist - duet or the entire ensemble, the performers of this musical event will inspire in this musical whirlwind. Direct from their USA tour, this select cast of highly talented and accomplished performers have featured in worldwide smash hits including; Jesus Christ Superstar, Hairspray, West side Story, Titanic, Les Miserables, Wizard of OZ, Mary Poppins, Me and My Girl, Evita, The King of Narnia, Rent and Avenue "Q". "ALL THE HITS IN ONE SHOW" - that is the motto of this musical gala, full of highlights; the emotional and varied journey into World of Musicals will delight the audience. World of Musicals is a show for the entire family, so get ready to be enthralled and sing along to all your favorite and much-loved musicals in one unforgettable evening. World of Musicals simply not to be missed. Book Now! "The cast is supremely talented and an absolute joy to watch" Broadway World "Emotional ballads, stunning solos and rousing ensemble performances" Main Echo Full: $79.90, Members/Concession/Group 10+: $74.90, Youth U/16: $59.90
West Gippsland Arts Centre