Comedy Drama, Physical Theatre
Family Is Murder!
A Murderously Outrageous Comedy Farce in One Act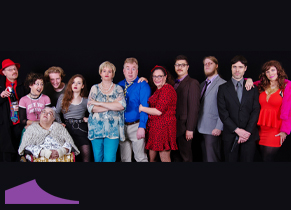 Saturday 17 April, 7:30pm

Family is Murder!
Husband, Wife, Daughter, Mother, Sister ..
Secretary, Lover ..
Parolee, Lawyer, Peeping-Tom, Debt Collector ..
A Murderously Outrageous Comedy Farce in One Act
Families; we all have them, but the Smiths are taking dysfunction to another level!
Double entendres, inappropriate humour and adult concepts mixed with traditional farcical conventions and classic who-done-it, or who is going to do it, mystery!
Albert Smith is having a bad day, and he's got no-one to blame but himself!
He's made some rather questionable life-choices which have landed him in hot water, and facing down the barrels of several guns, both figuratively and literally!
His business is going under, his marriage is on the rocks, his gambling debts are due, his sister is having a break-down, his daughter's obnoxious demands continue to grow, and his extra-marital shenanigans and web of lies are all about to catch up with him in the worst possible way!
Will Albert make one-too-many bad decisions and dig a hole he can't escape, or will he navigate a way out of his impossible self-made bed?!
An Original Comedy Starring a Talented Ensemble
Produced by the Multi-Award-Winning HT&E Theatre Co.
"Family is Murder!" is just the outrageous comical relief we all need after the last year!
80 Minute Show
All Tickets: $30
Community
$30.00
17 April 2021
West Gippsland Arts Centre
Theatre 2
M15+ Adult Content and Language