Comedy Drama
The Importance of Being Earnest
by Oscar Wilde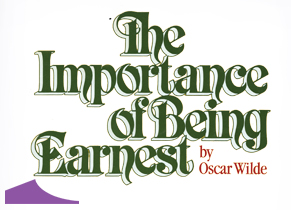 Black Box / Theatre Two
Thursday 13 January 7:30pm
Friday 14 January 7:30pm
Saturday 15 January 1:30pm and 7:30pm
Sunday 16 January 1:30pm

The Importance of Being Earnest is a glittering comic jewel of the English theatre. Ridiculous situations, all arising out of diversions, evasions and mistruths, provide a backdrop for the wittiest of dialogue, with almost every line a quotable quip from the dazzling brillinace of the author.

This was Oscar Wilde at the height of his powers. First staged in 1895, the play has sen innumerable productions, on stage and in film, and it remains one of the most delightful and funniest of theatre experiences however it is shared.

For this production, Warragul Theatre Company are pleased to welcome back the production team responsible for their award winning A Streetcar Named Desire as they turn their hand to something considerably lighter! It's a souffle with substance.

Earnest delivers more than a few jabs at pomposity and surely, in such unprecedented times we can all use an inoculation of 'serious triviality'.

Member: $33
Full: $38
Concession: $35
Youth U/18: $25

Covid-19 Safety: All shows and events will be presented in accordance with DHHS regulations and the orders of the Chief Health Officer. As of the time of publication, the CHO's directive is that all patrons visiting the West Gippsland Arts Centre must show proof of double-vaccination, or a valid medical exemption, accompanied by photo ID.
This will apply to all visitors to West Gippsland Arts Centre, including (but not limited to) venue hirers, producers, performers, contractors, suppliers, exhibitors, volunteers and patrons of Albert & Smith. Guests can be assured that all employees and representatives of the West Gippsland Arts Centre are fully vaccinated.
Please enact social distancing and follow current Covid-19 requirements.
$38.00
13-16 January 2022
120 minutes
West Gippsland Arts Centre
Theatre 2