Drama
ek-spo-zia
10th Anniversary Celebrations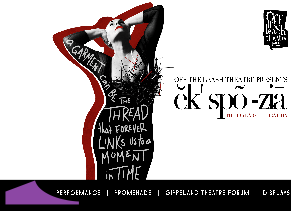 Friday 4 March 8:00pm & Saturday 5 March 3:00pm

Yearning to declutter their wardrobes and their minds, women desperately sort through their own clothing; the too-tight skinny jeans, the long coveted yellow dress, the favourite childhood shoes...

What hope do they have in the evolving sartorial landscape, where online shopping, fast fashion, and memories of clothes once worn, infiltrate all aspects of their lives?

Told through song and movement, and stories collected from across Gippsland, the latest original work developed with Off The Leash Theatre's resilient and creative team is included in a Gala weekend celebrating Theatre in Gippsland.

"Not only will you experience a whimsical, intelligent and humourous show, but your ticket also grants you access to a curated exhibit featuring costumes from theatre companies around the region, and a perfect spot to view the pre-show promenade.

Close out the event by booking a free ticket to our Gippsland Theatre Forum on Saturday 5 March, directly following the final performance.

To book Gippsland Theatre Forum, click here!

Friday 4 March:
7:00pm - Displays & Promenade
8:00pm - Ek-spo-zia Performance

Saturday 5 March:
2:00pm - Displays & Promenade
3:00pm - Ek-spo-zia Performance
5:00pm - Gippsland Theatre Forum

Full: $30
Members/Concession/Youth U18/Group 10+: $25

Covid-19 Safety: All shows and events will be presented in accordance with DHHS regulations and the orders of the Chief Health Officer. As of the time of publication, the CHO's directive is that all patrons visiting the West Gippsland Arts Centre must show proof of double-vaccination, or a valid medical exemption, accompanied by photo ID.
This will apply to all visitors to West Gippsland Arts Centre, including (but not limited to) venue hirers, producers, performers, contractors, suppliers, exhibitors, volunteers and patrons of Albert & Smith. Guests can be assured that all employees and representatives of the West Gippsland Arts Centre are fully vaccinated.
Please enact social distancing and follow current Covid-19 requirements.
$30.00
4-5 March 2022
90 minutes
West Gippsland Arts Centre
Theatre 2

This show contains potentially triggering themes pertaining to death, dying and miscarriages.