Music Fine
GSO - 'Two in One'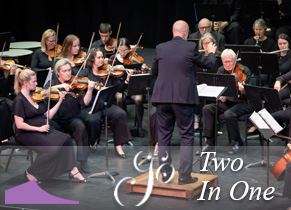 Sunday 21 November 2021, 2:00pm
Gippsland Symphony Orchestra

W. A. Mozart
Clarinet Concerto in A major, K. 622, was written in October 1791 for the clarinettist Anton Stadler. Consisting of three movements, in a fast–slow–fast succession typical of the classical era; Allegro, Adagio and Rondo. Originally written for Anton Stadler to play on the basset horn however, Mozart was pursuaded that the clarinet was a more effective instrument for the composition. With several notes that go beyond the conventional range of the clarinet, perhaps hinting that Mozart actually intended it to be performed on the basset clarinet. This instrument had a low range down to low C extending the lower range beyond the E that standard clarinets do. The basset clarinet was a rare, custom-made instrument, so when the piece was published posthumously, a new version was arranged with the low notes transposed to regular range.

Felix Mendelssohn
Violin Concerto in E minor, Op. 64, is Mendelssohn's last large orchestral work. It holds an important place in the violin repertoire and is one of the most popular and most frequently performed violin concertos in history. Conceived in 1838, the work took another six years to complete and premiered in 1845. The work is one of the foremost violin concertos of the Romantic era and has had a significant influence on many composers. Although the concerto consists of three movements in a standard fast–slow–fast structure and each movement follows a traditional form, the concerto was innovative and included many novel features for its time. Distinctive aspects include the almost immediate entrance of the violin at the beginning of the work, and the through-composed form of the concerto as a whole, in which the three movements are melodically and harmonically connected and played attacca which means each movement immediately following the previous one without any pauses.

The concerto remains popular to this day and has developed a reputation as an essential concerto for violinists to master.

Running time: Approximately 90 minutes no interval

Full: $25
Concession: $20
Youth U/18: $15

Covid-19 Safety: All shows and events will be presented in accordance with DHHS regulations and the orders of the Chief Health Officer. As of the time of publication, the CHO's directive is that all patrons visiting the West Gippsland Arts Centre must show proof of double-vaccination, or a valid medical exemption, accompanied by photo ID.
This will apply to all visitors to West Gippsland Arts Centre, including (but not limited to) venue hirers, producers, performers, contractors, suppliers, exhibitors, volunteers and patrons of Albert & Smith. Guests can be assured that all employees and representatives of the West Gippsland Arts Centre are fully vaccinated.
Please enact social distancing and follow current Covid-19 requirements.
$25.00
21 November 2021
90 minutes
14:00
West Gippsland Arts Centre
Theatre 1