Music Blues/Jazz/Swing/Folk, Music Pop/Rock/Contemporary
The Australian Bee Gees Show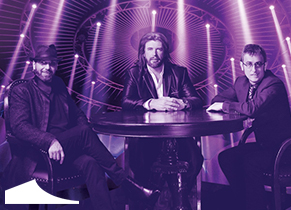 Saturday 20 August 2022, 8:00pm

Fresh from celebrating 10 years and over 3000 shows headlining on the Las Vegas strip, the Australian Bee Gees Show will be heading Down Under for the Australian leg of their 25th anniversary tour!

This new show will be presented in two parts and feature all of the hits in a nostalgic trip down memory lane in a multimedia concert event.

The Australian Bee Gees Show is currently performing at The Excalibur Hotel and Casino and has been in residence for the past 9 years and have just signed a new 5-year contract that will keep the ABGShow headlining in Las Vegas until 2024. The group has racked up over 3000 performances on the Las Vegas Strip and was recently voted Best Tribute Show in Las Vegas by the prestigious Las Vegas Review Journal and has made the top 10 in the 'Overall Best Show' category, an amazing achievement in Las Vegas.

The Australian Bee Gees show was also the first Australian band to perform 1000 shows headlining on the Famous Las Vegas Strip and with 3000 shows already under their belt in Vegas alone they are looking forward to continued success in Sin City.

After 25 years on the world stage and over 8,000 performances in over 60 countries, The Australian Bee Gees Show has evolved to become the definitive live celebration of the wonderful music written by the Brothers Gibb.

From their first shows in 1996, The Australian Bee Gees Show has conquered Las Vegas and has played to capacity houses around the world, cementing their reputation as an exceptional live concert act and the world's leading Bee Gees Show.

For one night only be a part of the magic that is, The Australian Bee Gees Show.

Duration: Approximately 120 minutes including interval

Full: $57.50
Concession: $52.50

Covid-19 Safety: All shows and events will be presented in accordance with DHHS regulations and the orders of the Chief Health Officer. As of the time of publication, the CHO's directive is that all patrons visiting the West Gippsland Arts Centre must show proof of double-vaccination, or a valid medical exemption, accompanied by photo ID.
This will apply to all visitors to West Gippsland Arts Centre, including (but not limited to) venue hirers, producers, performers, contractors, suppliers, exhibitors, volunteers and patrons of Albert & Smith. Guests can be assured that all employees and representatives of the West Gippsland Arts Centre are fully vaccinated.
Please enact social distancing and follow current Covid-19 requirements.
$57.50
20 August 2022
120 minutes
20:00
West Gippsland Arts Centre
Theatre 1