Music Pop/Rock/Contemporary
Sir Cliff & I
Starring Marty Rhone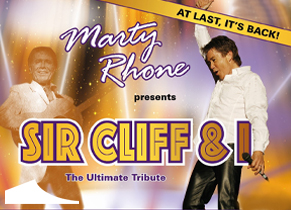 Saturday 14 May 8:00pm                                                                   

From the producers that brought you the spectacular 'ELVIS King of the World' event comes an amazing new production. Starring a true legend of the Australian music scene, with success both here and internationally, Marty Rhone presents his unparalleled tribute to Sir Cliff Richard which has broken records wherever it has played.

A true international artist, Marty returned to Australia, just as COVID 19 took a stranglehold on the US, hoping to present this amazing production that sees Marty performing all Cliff's greatest hits including, Devil Woman, Wired for Sound, Young Ones, Summer Holiday and his own mega hits Denim & Lace, A Mean Pair of Jeans plus his #1 chart toppers from his first US country album.

The show features some of the most innovative production that today's technology can bring, including Marty performing LIVE on stage with Cliff and ELVIS via the wonders of an amazing audio-visual presentation. Marty also joins Sir Cliff for a moving tribute to Freddie Mercury.

It has now been over a decade since Marty first presented his record-breaking tribute to the Prince of Pop, but after three very successful years in the US, it is time to once again tour his native homeland and audiences he describes as the best in the world.

A successful debut US album and appearances in US TV series Preacher, Bull and Harrow at home in Australia, has seen Marty become one of this country's most versatile and sought-after performers with a CV that few can match.

With an illustrious career over six decades as an actor and singer, Marty Rhone has performed with and in front of some of the biggest names in entertainment; from the Rolling Stones to Yul Brynner, the Bee Gees, John Denver and Peter Allen; and has performed on stage in front of De Niro, Hoffman, Burt Reynolds, Sally Field, the late Princess Grace of Monaco, the late King Hussein of Jordan, and the British Royal family.

On consistency of performance there are few to match him, nor done or achieved as much as he has over such a long period: theatre, television series, film, concert stage, No1 hit records 'Denim & Lace' and 'A Mean Pair of Jeans', and most recently his three #1 Indie hits off his first US Country album 'Jealous of the Sky'. Marty Rhone is one of the very few Australian performers that has successfully, and over such a long time, juggled twin careers of acting and singing and is arguably enjoying more and varied success today than ever.

After such a long tour break Marty says he can't wait to re-engage with audiences around Australia.

Show duration: 2 hours 30 minutes, including interval

Members: $64
Full: $69.90
Concession: $64.90
Youth U/18: $64.90
Groups 10+: $64.90

Covid-19 Safety: All shows and events will be presented in accordance with DHHS regulations and the orders of the Chief Health Officer. As of the time of publication, the CHO's directive is that all patrons visiting the West Gippsland Arts Centre aged 12 years and 2 months or over are required to be fully vaccinated.
Valid forms of evidence permitting entry include; A digital vaccination certificate or medical exemption; A printed vaccination certificate or medical exemption issued by the Immunisation Register, along with a valid photo ID.
This will apply to all visitors to West Gippsland Arts Centre, including (but not limited to) venue hirers, producers, performers, contractors, suppliers, exhibitors, volunteers and patrons of Albert & Smith. Guests can be assured that all employees and representatives of the West Gippsland Arts Centre are fully vaccinated.
Please enact social distancing and follow current Covid-19 requirements.
$69.90
14 May 2022