Workshop/Seminar, Family/Children
Paint What You Hear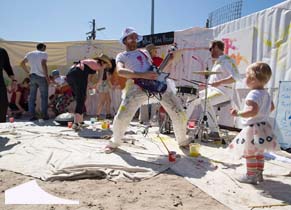 Wed 6 July - Sat 9 July                                       

Wednesday 6 July:
10:30am - 11:15am: Ages 2-4 Years FREE
11:45am - 12:30pm: Ages 2-4 Years FREE
3:15pm - 4:00pm: Ages 2-4 Years FREE

Thursday 7 July:
9:30am - 11:30am: Ages 5-8 Years Child $5
2:00pm - 4:00pm: Ages 9-12 Years Child $5

Friday 8 July:
11:00am - 1:00pm: Ages 5-8 Years Child $5
2:00pm - 4:00pm: Ages 9-12 Years Child $5

Saturday 9 July:
10:00am - 12:00pm: Adults Full: $15, Members: $10
2:00pm - 4:30pm: Art Work Display Workshop Register your attendance HERE

Looking for something fun, engaging and interactive for the kids to do these school holidays? Join us for Paint What You Hear, a series of hands-on workshops that blend music and art. Participants will experience live music and free spirited fun while also getting messy. Very messy!

Directed by musician Erica Rasmussen and visual artist Zakiya Kurdi these amazing workshops use live classical and contemporary music and visual art, encouraging participants to respond to the music using painting and drawing.

On Saturday 9 July following the workshops, participants are invited to attend an Artwork Display Workshop to frame their work ready for exhibition at West Gippsland Arts Centre for the remainder of July.

These workshops get very messy so we encourage you to wear 'play clothes' that you don't mind getting covered with paint!

Watch this video to see what Paint What You Hear is all about!

Note:
- All children must be accompanied by a parent or guardian for the duration of the workshop.
- We advise children to wear 'play clothes', as the ArtPlay sessions get very messy.
- All paint used is water based and easily washes off clothing.
- Any parents or guardians that are happy for their children to be featured in photos or videos will need to complete a photography/video consent form.
- Food and drinks will not be provided, you are welcome to bring your own.
- Participation is at own risk. West Gippsland Arts Centre and Paint What You Hear take no responsibility for any allergic reactions, injuries or illness that may arise from the workshop/s.
- Any questions or queries please contact the Booking Office.
$0.00
6-9 July 2022