Family/Children
Monday Music with Fiddlesticks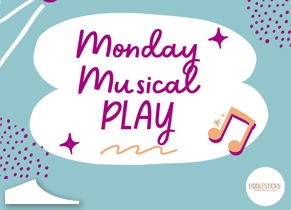 Mon 10 July -Mon 11 Dec 10:00am
Foyer 2

*SORRY THESE SESSIONS ARE BOOKED OUT.                                                                   

Monday 11 December*

Join Jayne for a fantastic Fiddlesticks jam of moving and grooving to music. Designed especially for children between 18 months-3 years, Jayne will take the children on a musical journey with a variety of tapping, scrapping, shaking instruments and using bright vibrant props to help explore their creativity through dancing to tunes from around the world!

The absolute best way to explore music is through play with lots of friends and we welcome you to join us at 10am for 45 minutes of action packed musical fun!

Duration: 45 minutes

All Tickets :*FREE
*This is a free event however registrations are essential for participating children.
$0.00
11 December 2023

Please be advised only children tickets need be purchased accompanying adults do not require a ticket